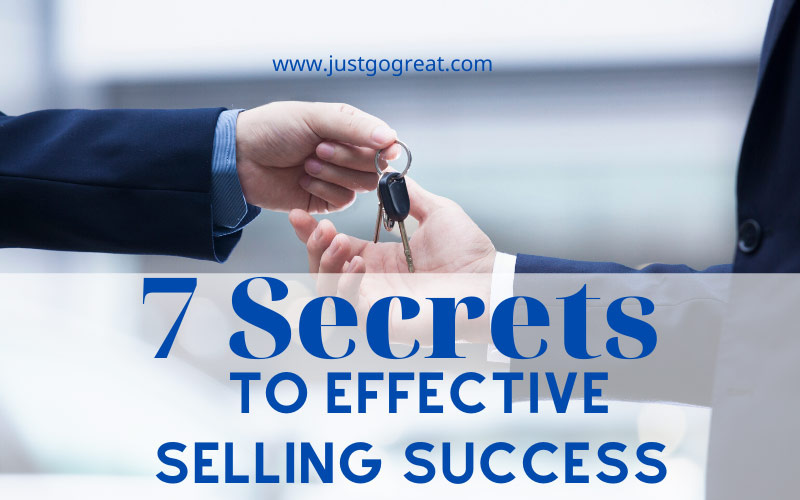 Introduction
An Iconic Salesman
When I think of sales success, I think of Joe Girard. Let me tell you a little about the greatest car salesman of all time.
From his days as a young boy selling magazine subscriptions door to door, Girard learned the secret to sales success. So when he became a car salesman at a local dealership in 1963, he put that learning to work. Girard sold more than 13,000 Chevrolets over the next 15 years, at one point even selling 18 cars in one day!
What was the secret to Girard's mind-blowing sales? The important thing was not what he was selling. Girard focused instead on the components of selling. Whether he was selling magazine or cars, he realized that these components remained the same. Girard mastered these components for consistent success.
So can you become a master of selling like Girard?
In this e-book, you'll learn some important secrets to successful selling. These secrets are actually strategies to overcoming unseen obstacles that stand between you and sales mastery. We'll identify the seven biggest obstacles – and the simple things you can do to conquer them. But first, let's begin by understanding the critical components of selling. These are key to your results, regardless of your industry.
The Trifecta of Sales Success
There are three components to being successful in sales. Take a look at the illustration below. Each point on the triangle represents each of the three critical components. Notice that they are equally important to your success.
Your task is to master these three critical components. Let's take a look at each component.
Product Knowledge
You must have knowledge about the product or services that you're selling. This doesn't mean that you have to be the "expert." But you must be able to explain or demonstrate the basics of whatever you're selling. You should be able to communicate the benefits of your product or services. Then share the unique distinctive that makes your product or services more desirable than your competitors.
Selling Process
You must have a reliable selling process. Successful sales people do not rely solely on "personality." They develop and refine an effective and repeatable process for converting their prospects into customers.
Your sales process includes documenting your selling system, training your team, and actually using your system. It also includes regularly asking yourself and your team how you can sell better. The best businesses pay attention to their selling process because they know it's the lifeblood of their company!
Right Mindset
It is essential that you have the right mindset or attitude. You must not only believe in your product but also be enthusiastic about how it will meet the needs of your prospect. You must be confident in yourself, your product, and your process.
To have this mindset you must constantly feed your mind with positive ideas and information. Culture and especially media often focus on the bad or the negative. So you must be intentional about feeding and nurturing a positive, optimistic attitude every day.
Successful sales professionals are always improving in these three areas. Take the time to assess yourself in each of these three components. What is your strong point? What is your weak point? You need to be strong in all three points.
Your sales success depends on your ability to master these three critical components. But mastery means getting past the obstacles that are intricately connected to these components. The secret to sales success is to realize that we typically create obstacles for ourselves. These obstacles must be identified and overcome.
Let's look at the seven obstacles that might be getting in the way of your success – and how you can overcome them.
---
Secret 1
Don't fear the "NO"
Much has been written about the fear of rejection, but rejection still remains an issue for many sales people. I've found it helpful to give my prospects the option to say "no" right up front!
Does that sound like I'm shooting myself in the foot? Let me explain.
My product or service is not for everyone. I don't want anyone to feel manipulated or disrespectfully coerced. Neither do I want anyone to feel buyer's remorse. When people say "yes" to me, I want them to truly want what I am offering. I want it to be a "win-win" situation. Otherwise, there is no hope for a long-term relationship.
As a sales professional, you need to truly believe in your product or service with passion and enthusiasm. You need to communicate the unique benefits of buying from you. But in the end, if the prospect says "no," it does not diminish the value of your product or service. It is not a personal rejection of you. You must understand that differentiation within yourself in order to succeed.
---
Secret 2
Always be Prepared
It's very important that you prepare before making the sales contact. I know that there are times when selling opportunities present themselves serendipitously, but most of the time you will have an opportunity to prepare before the contact.
Here are two ways to prepare: Do your homework. Go to the prospect's website, blog, and social media sites before the contact. Learn everything you can there about the company and the individual you'll be meeting. Prospects are typically very impressed if they see that you've done your homework.
They feel valued and respected. If you're selling to consumers, be sure you've talked to a considerable number of them so you really know their wants and fears.
Adjust your attitude. Go in with a mindset that is customer-centered and customer-focused. Be optimistic and visualize this prospect becoming your customer. Anticipate as much as possible that will happen in your conversation. Know the important questions to ask based upon your knowledge of their wants and fears. At the same time, always remain flexible and open to the unexpected.
It is very important to be prepared. I would encourage you to develop a system for personal preparation and use that system every time you make a contact.
---
Secret 3
Focus on Your Prospect and not Yourself
Did you know that a great cold-caller fails in most of the calls he makes?
And did you know that if that same cold-caller gives to just one person, he increases his prospect list by 250 times? He gains potential influence with approximately 250 individuals with whom they already have a connection.
That's because selling isn't about taking someone's money, contrary to what most people think. In his video, "The Art of Selling," Bob Burg explains that the Old English root meaning of "selling" is actually "to give." Studies show that professionals who view selling as giving will consistently outperform their competitors. People who view selling as giving succeed 100% of the time.
Three steps to shifting your focus to giving:
Before The Contact: You must be tuned in to your prospective customer before you even meet him. Remind yourself, "This contact is not about me. It is about the prospective customer, about his wants and needs."
During The Contact: It is very important that you are totally present for your prospect in the moment of contact. Do not allow yourself to be preoccupied with fear, discomfort, or your own ideas. Instead, direct your attention and energy to understanding your prospect. There is a Hebrew Proverb that says, "The purposes of a man's heart are deep waters, but a man of understanding draws them out." You want to understand your prospect better than he understands himself.
After The Contact: Ask yourself, "How can I serve this person? How can I make a difference in his life?" Moving forward, direct your actions on caring for your prospect.
---
Secret 4
Listen More to Your Prospective Customer
You must learn to listen carefully to what your prospects are saying. Start by letting them do most of the talking. When appropriate, say back to them what you hear them saying.
As I've already mentioned, you want to deeply understand your prospect's needs, wants, and fears. The best way to do this is to ask good questions. As you guide the conversation with powerful questions, observe how your questions make an impact on your prospect. Listen beneath the words to find out what they are feeling in the moment.
Questions are essential to helping you get to know and understand your prospects. In fact, they are the most important tools you have in the selling conversation. The very quality of your selling is directly related to the quality of your questions.
Get this: You can actually increase your sales just by asking better questions than your competition! I encourage you to prepare good questions ahead of time that are better than your competition. Be prepared to ask more questions as they surface in the conversation. And most of all, listen!
---
Secret 5
Always Keep Your Promises
"Can I trust this person?" This is the primary question that your prospect is thinking when he or she meets you.
It amazes me how many people disappoint their prospects in the initial meetings or the sales process. They do not follow through and do what they say they will do. They seem to underestimate the importance of reliability in their personal and professional lives.
One way to build trust in the initial impression is to provide proof that other people or companies have put their confidence in you. I encourage my clients to leverage the power of online reviews and especially video testimonials. Seeing and hearing a real, live customer talk about the value of your product or service not only creates trust, but it creates an emotional connection as well.
But even if this starts you off on the right foot, you must keep your word in the initial meetings and sales process. Otherwise, it is likely that the prospect will assess you as unreliable and/or dishonest. And with that assessment, you will lose out on business.
Successful sales professionals stand behind their promises no matter how difficult or inconvenient. They know that their measure of success is related to their reliability.
Bottom line: Keep your word!
---
Secret 6
Close the Sale
Do you still often come up empty-handed? Even after you've had a great conversation, asked good questions, and uncovered some clear needs that you can meet?
In my early days of selling, closing a sale was a huge problem for me. And I've discovered that it's a problem for many other people as well.
Since then, I've discovered that there are three keys to a successful close. They are emotions, buying signals, and questions. Always remember that people buy based on emotion, and then they justify with logic. In other words, every buying decision is an emotional decision.
Through your conversation, look for the moments of emotion. A good selling conversation will guide you to your prospects' points of pain and passion. You must uncover their pain or passion to close the sale. Don't be afraid to linger there.
Also, be watching for both verbal and visual buying signals. And then, when the time seems right, ask the closing question.
A business coach can help you leverage these three keys in your scripts and questions. In the meantime, here are two tips to increase your chances of closing a sale.
Make A Guarantee: This can be tricky in some industries, but try to create a realistic, easy "way out" for your prospect. This communicates that you will protect them from "buyer's remorse" and work hard to fulfill your promise. How will you promise that your prospect will not suffer a loss for making the purchase?
Apply "The Herd Theory" Tom Freese, author of Secrets of Question Based Selling, says, "If you could demonstrate that everyone else was already interested in and excited about your product, wouldn't that communicate a greater sense of value and lower the prospect's risk? The Herd Theory creates momentum by authentically showing prospects that 'everyone else' is already moving in a certain direction – making them more willing to step out and engage you.
There is an art to closing a sale, but you can learn to use these tools and tips for greater results. Keep practicing and evaluating!
---
Secret 7
Always be Improving Your Skills and Mindset
Leaders are learners, and great sales people are both. Successful sales professionals are always learning and improving their skills and their mindset, both of which require steady attention and intentional development. Unfortunately, many sales people fail in this area typically because they are not intentional. They don't realize that every leader eventually reaches the limit of his leadership capacity. As a result, their performance plateaus.
John Maxwell, the author of The 21 Irrefutable Laws of Leadership, says you can raise your capacity for leadership. Through intentional learning, you can develop an increasing capacity for sales success!
There's no doubt that you're reading this e-book because you want to improve. Let me encourage you to continuously read, observe, engage mentors, attend seminars, talk to colleagues, and evaluate your selling experiences. Be an aggressive learner and you will become a top notch sales professional!
---
Conclusion
As you increasingly overcome these seven obstacles, you will begin to master all three components of sales success. You'll realize the enormous potential in your product knowledge, selling process, and your mindset and attitude. Be sure to share with me the ways that you notice a change in your sales performance and greater financial success.
In time, I believe that you will fall in love with selling and see it as "serving" more than taking. As you begin to focus more on your prospect, you will find yourself naturally wanting to prepare ahead of time, listen more intently, and keep your promises. The best discovery you'll make is not only what this can do for your prospect – but what it can do for you. As you shed your fears of rejection and embrace your personal development, you'll do more than just close more sales.
You'll gain more confidence. You'll enjoy the fruit of a growing network of people who appreciate you. You'll become a master of sales – and life!