Effective Reading Cheat Sheet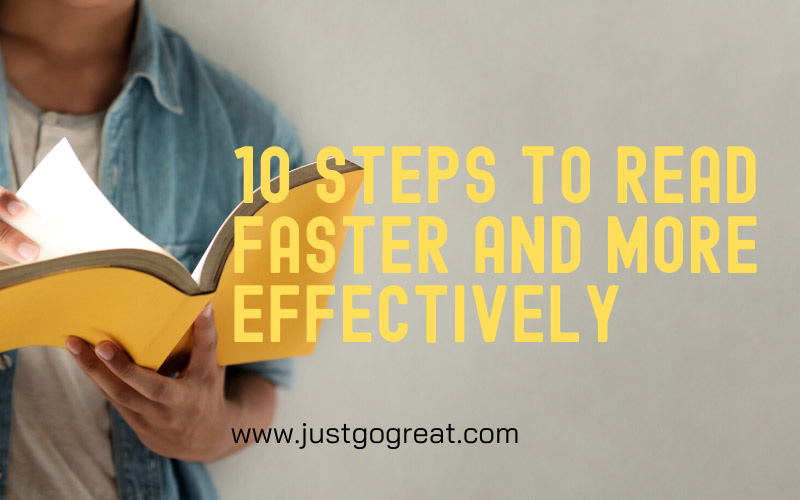 The cheat sheet below gives a snapshot of the process I use to read non-fiction books in general and also to write the book summaries over at JUSTGOGREAT. To get the most from it, and for a more in-depth guide to effective reading, I highly recommend this summary of Adler and Van Doren's How to Read a Book.
ASK – What am I hoping to learn? Output: List of questions to answer.
1. Research – Find and triage books with reading lists, recommendations and reviews.
2. Scan – The cover, publisher's blurb, title, contents and index.
ASK – How well does this book answer my questions? Decision: Skim / don't skim.
3. Skim – Preface, chapters (titles, questions and recaps), and last pages of book.
4. Synthesise – What is the book about? (Use no more than 3 sentences)
ASK – Is reading this book worth my time? Decision: Read / don't read.
5. Read (actively)
Set up for success – appropriate energy, good lighting, note taking equipment.
Take notes – liberally, in the book (paper) or in an app (digital).
Connect ideas – within the book and to other authors.
6. Structure (bullet points)
From memory – don't look at your notes until you have to.
Referring to notes – fill in any blanks you've missed.
7. Synthesise (long-form)
Use your own words – change examples to check for understanding.
Picture one person – make your imaginary audience specific.
Imagine teaching it in person – keep it concise, interesting and relatable.
8. Memorise
Structure first – lists are more easily memorised.
Use mnemonics – to get the information into short/mid-term memory.
Use spaced repetition– to review the information until it's in long-term memory.
9. Review
Re-visit your summary and/or the book as often as necessary.
10. Repeat
Vary topic and/or author depending on overall goals.
And that's all there is to it!
---
Suggestions:
See this article if you want to know how productive you are.
Or, you can read this article to learn how to make use of notebooks to lead a successful life.