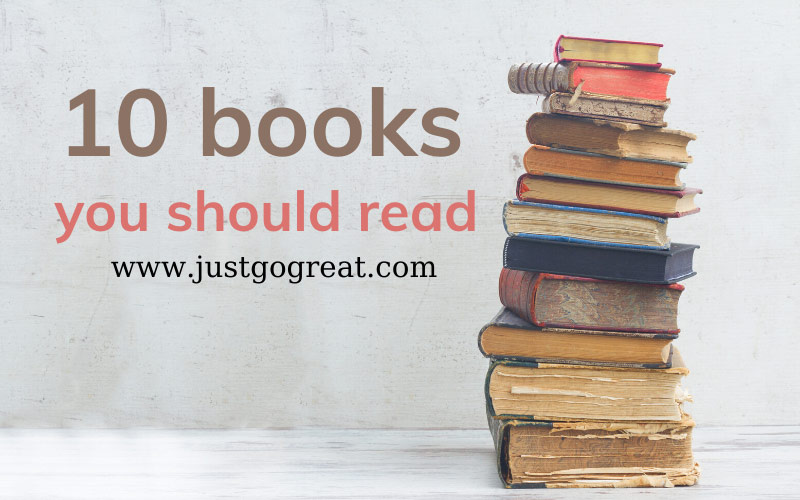 In today article, I want to share with you the top 10 books I hope to that you should read this year. We are embarking on a new decade. That means these reading goals for some reason feel a little extra special. I'm not going to use the word intimidating because I always say I try not to intimidate myself, or be too hard on myself.
In fact this year, I truly tried to set myself up for success. Last year was actually my worst reading year in the past five years. I still read a lot, but I definitely did not read as much as I would have liked.
So this year I'm gonna be focusing on the books I truly want to read. I look at on my bookshelf and I said if I had an extra hour in the day that is the book I would pick up. Next that in mind, the 10 books I have on my to-be-read for the year. Ones that I'm truly so excited to read.
I'm also just following headfirst into fantasy. I really want to tackle some serious that I have been putting off. Or just ones that I know are going to be amazing, and just maybe marathon the whole thing in 2020.
---
1. "Daisy Jones and the Six" by Taylor Jenkins Reid
Let's go ahead and dive right into the first book I'm gonna talk about is "Daisy Jones and the Six" by Taylor Jenkins Reid. This is a very beloved novel.
Last year I read the 7 husbands of Evelyn Hugo and really really enjoyed it. So I'm really interested in checking out another book by this author.
This is a fake biography of a rock and roll star, I think in the 60s, named Daisy Jones. I believe this really does follow all of the things you would expect of a rock star in the 60s, you know, drugs, rock'n'roll, music, sex, fame, all of those things.
I also hear that the Daisy Jones and the Six audiobook is incredible as it's a full cast. So I'm really interested in picking this up. I might read in the audiobook form, I'm not sure, but I know I'm gonna read it. I've heard amazing things and I'm trying to read more by authors I loved the first time around. Because of that I'm definitely going to read this in 2020.
Learn more at: 3 big lessons I've learn from the book "How music works"
---
2. "Starless Sea" by Erin Morgenstern
Next up is the Starless Sea by Erin Morgenstern. I have never read anything by Erin Morgenstern which is surprising because the Night Circus is so beloved. So I really want to pick up this novel. I feel like it would really like it. I love flowery writing like really beautiful lyrical prose, something that really speaks to me. I know Erin Morgenstern can deliver just that.
I'm hoping to love this novel which I already owned. And if I really like it, I might pick up the Night Circus as well and read that in this year.
This, I believe, is a story of a man who basically stumbles upon this library and begins to read these books. And they tell tales of past heroics. Then one of them begins to tell the tale of his life. And the story begins to overlap. He sets out in an adventure in New York City. It sounds really intriguing.
I'm hoping it's whimsical. and beautiful. and everything that just like makes him smile. So definitely, I am going to read this. I actually think I'm going to read this sooner rather than later because I feel like this is a really great winter novel. Regardless, I'm going to read it.
---
3. "Republic of Thieves" by Scott Lynch
Next on the list is the Republic of Thieves by Scott Lynch. I am currently reading Red Seas under Red Skies and I'm almost done.
It's natural that I would want to almost immediately pick up the Republic of Thieves. Something I'm really proud of I've done, a really good job of patting myself on the back. If I read the first book and I like it, I continue on, and I try not to delay too much between books 1, 2 & 3.
With that in mind, I'm almost done with the second book so I need to pick up this third one. I have been loving this fantasy series by Scott Lynch. It's full of thieves, whimsy and adventure. Our main character, Locke Lamora, gets in all sorts of keeps and troubles. It's so entertaining to see how he can get himself out of it.
It's endearing. Its loveable. It's also laugh-out-loud funny. I'm really curious to see how the story continues to expand in this third novels. This is definitely on the to-be-reading.
---
4. "Assassin's Apprentice" by Robin Hopp
Speaking of famous fantasy series, this is the year I want to read a lot of Robin Hobb. I have the first novel of the Assassin Series by Robin Hobb. The Assassin's Apprentice which is super famous.
Robin Hobb has a bunch of book. She has trilogies upon trilogies upon trilogies of books within this world. She's also just like really prolific. She has a lot of materials to read which is a good thing in my opinion. Especially, all of them are loved. I feel like this is the book. I want to read early this year because I honestly want to pick up so many books I want to fall in love with Robin Hobb. I want to fall in love with her book.
So this is something I'm really excited about. But this is set in a world where there's multiple kingdoms at war. We follow our main character who's basically being trained as an assassin within one of these kingdoms. I'm sure there's lots of adventure, lots of political intrigue.
All of that I would say Robin Hobb is definitely one of my priority authors in 2020. I'm really hopeful that I read a bunch of books. Obviously Assassin's Apprentice is going to get read and is on my list.
5. "Harry Potter and the Order of the Phoenix"
Next up, I have Harry Potter and the Order of the Phoenix. I started a re-read of Harry Potter in 2019. I want to continue that re-read into 2020 and finish it up. I'm currently on book 5, so I have three books left in my re-read.
It's been really enjoyable. It's a great series that I've been picking up when I feel especially anxious or stressed from work. It's just a really great escape and something that I honestly re-read all of the time. This will probably be on to-be-read, this year, next year, and year after.
I definitely plan to finish the three remaining books within this re-read, sometime within 2020. Just whenever I feel the need to pick up one of these books when I'm feeling especially stressed out. This is gonna be read.
6. "Burning White" by Brent Weeks
Another book I want to read early 2020, most of these books, I'm likely to read right away. We'll see when that actually happens is the Burning White by Brent Weeks.
This is the fifth and final book within the Lightbringer series which is one of my favorite fantasy series out there. It is adult fantasy series. It really leaves a super intriguing and unique magic system which basically harnesses the spectrum of light. The more colors within the spectrum you can control more powerful you are. But the magic user actually is harmed by these semantics. The more magic you you say if you're in a war, the sooner you die. A lot of the more powerful beings and like warriors within this world die at an incredibly young age. It really provides an interesting dynamic.
This series, I've loved all four books, too. I was worried about needing to do a bunch of summary reading before jumping into book 5. But apparently, many of you guys have told me that Brett Weeks himself does a great job of recapping everything at beginning of this book.
So this is a novel I hope to pick up really soon. Once I basically complete Jonathan Strange, I'll pick this up as my next super long fantasy read. I believe this is over a thousand pages but highly anticipating. This it's gonna be great. I cannot wait.
7. "Foundryside" by Robert Jackson Bennet
Next is the only book that is not out yet on this to-be-read. I really try to keep it two books I already owned. But this book comes out in mid to late January. I figured let's throw it on there because I can't wait to pick up this book – and that is the sequel to Foundryside by Robert Jackson Bennet.
2019 was the year I read all of Robert Jackson minutes books. I love them so much. Foundryside was one I read at the very end of 2018. It was incredible. It's the first now that's what I believe will probably be a trilogy. It was exceptional and the seagull comes out in January and. I cannot wait.
This is like a fantasy novel that combines, like thievery and coding within its magic system. We follow our main character who is basically hired to steal an impossible object, which she successfully does, because she is an incredible thief.
The magic system in this world really think of it like hacking and coding. If you know the language of different materials: wood, stone, glass, metal, you can basically convince it to rework itself in the way that you wanted to. You can make a wall less strong to be able to break through it. You can make the ground less squeaky when you're walking upon it.
Our main character really understands those languages and communicate seamlessly with things around her. Therefore, she is an incredible thief. She steals the object but instead of ending all of her problems that forces her in the middle of this turf war, between two powerful merchant families and that's where the first one starts.
It's so good and full of so many things: great characters, romance, adventure, everything you want sequels coming out in January. I am counting down the days. It's gonna be amazing. So I decided to include it in this list because you know I love to break my own rules.
Learn more at: 12 Rules for Life – What we learn from the book of Jordan Peterson
8. "NeverNight" by Jay Kristoff
The next book in my list is NeverNight by Jay Kristoff. This is another trilogy I hope to marathon throughout the year 2020. It's one that's really really popular.
This is actually an adult fantasy novel that's very dark. We basically follow our main character who is part of an Assassin's Guild. She's just a trained assassin that's really good at killing people. And in the story, I believe, she is seeking vengeance for the people who killed her family.
So this is dark, and gruesome, and super violent, what I've heard. I know it has adult themes. And it definitely is very graphic book. I personally confuse it with which is definitely incorrect. This is not why I picked this up expecting kind of like adult level fantasy themes. I'm hoping I really really like it.
I've liked Jade Kristof's tandem riding with Amie Kaufman. So I'm interested to see his solo writing. Again just hopeful for another fantasy trilogy to keep me really entertained in 2020.
9. "Carry On" by Rainbow Rowell
One of my favourite re-read that is Carry On by Rainbow Rowell. This, of course, is the fan fiction termed real-life novel of the Simon and Baz story, essentially Rainbow Rowell's contemporary author and one of her contemporary stories.
We follow our main character that writes fan fiction for this Harry Potter like story, so that book became so popular. She put out the actual story of Simon and Baz. It's full of wizardry. They go to a wizard school. There's like angst but they fall in love, and it's super entertaining. And it's basically Rainbow Rowell's play on the chosen one story. You follow these two people as they have to battle their personal demons and literal demons.
The sequel came out this past year. People had very mixed feelings, which really intrigued me. So I'm interested to see where I fall on that spectrum. Before I can read that book though, I need to re-read this. So I picked it up and I hope to re-read it this year.
10. "Raven Tower" by Ann Leckie
Then, we jump into the 8th on my to-be-read in 2020 is the Raven Tower by Ann Leckie.
They keep super famous fantasy sci-fi author. In fact, she's really known for a sci-fi trilogy that she's put out. I don't read a lot of sci-fi. So when I saw her put out a fantasy novel I knew I needed to pick it up. It's a book I especially want to get to this year as well.
When I picked this up, it doesn't actually like have a synopsis on the cover, or on the inside. It's literally just full of quotes of a bunch of famous authors. But many reviewers saying how much they love it. So that's great to hear. But it's difficult to decipher what it's about. Essentially, I think it's about like an epic between humans and gods at war, and kind of the conflict, and what it means to be at war with a greater being or something like that. But it also says gods met all the fates of men, men play with the fates of gods. A pretender must be cast down from the throne. First fantasy novel from Ann Leckie, New York Times bestselling author and winner of the Hugo Nebula and Arthur C Clarke Awards.
Again very famous author, so I'm pumped about this. I love fantasy novels obviously so to have one be written by such a famous author, and like similar genre, a very pumped to see.
Bonus
"Atomic Habits" by James Clear
Two more books I want to re-read is the "Atomic Habits" by James Clear. This one is completely different from the above to-be-read list which are mostly novel.
This book is a powerful and practical guide to transforming your habits, making change stick and achieving remarkable results – by author and habit-guru, James Clear.
"The 7 Habits of Highly Effective People" by Steven Covey
The final one is The 7 Habits of Highly Effective People by Steven Covey. Steven Covey is a well known educator, author and speaker. After the extreme success of the book 7 Habits of Highly Effective People, he wrote many more books relating to the 7 Habits.
This book is a perennial masterpiece on leading a happy, productive and purposeful existence and an unmissable stop for any pilgrim of personal improvement. It is a must re-read. I believe you love it, too.
Those are the top 10 books I want to read in 2020. Let me know down below some books you really hope to get to this year. I would love to know your opinion.